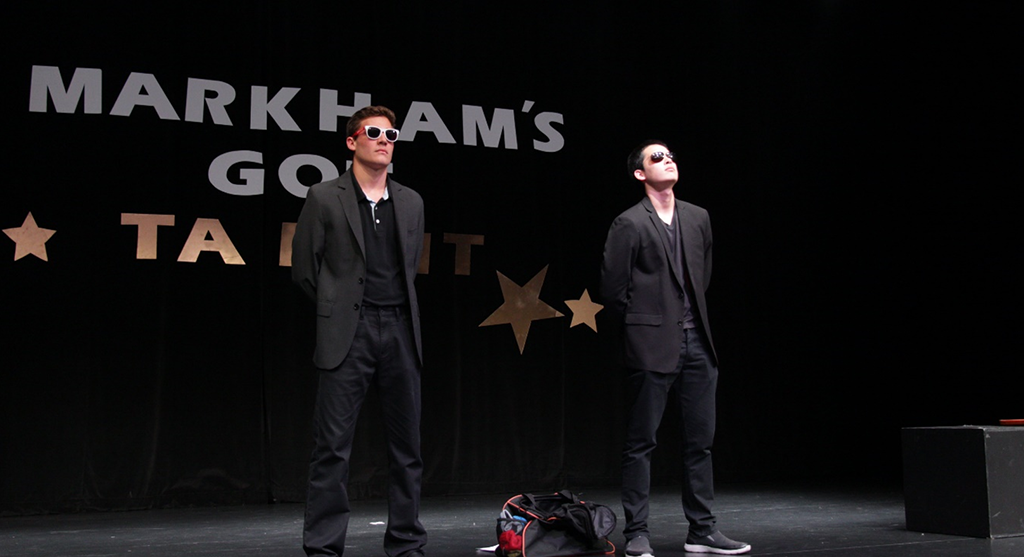 I really didn't know that so much effort could be poured into a single performance, I was taught that by Markham's Got Talent, and the countless hours I spent creating, practicing and perfecting the performance me and a friend had prepared for this event. I was amazed after noticing the amount of passion that had gone into making the night of the show so fantastic, I couldn't help but stare in awe at the talented students who sang, danced, and played instruments so well.
MGT is a relatively new event, and many people have been interested in participating. Since students usually do not have the opportunity of show-casing their talents in general, I believe that this is an excellent chance to express yourself. I only have one small issue with MGT; there are only 3 categories: Music Solo, Music Group and Dancing. I think that a "Miscellaneous" category should be added to allow magicians, jugglers, comedians and many more to join in on this fun and creative event. On the night of the show I was extremely anxious, I just couldn't believe that I was going to perform a song that I wrote in front of an audience. Anxiety ran through veins, I was getting more nervous with every second that passed, but suddenly, the lights dimmed, and Matias Vildoso entered the stage with an incredible amount of charisma and confidence, which managed to calm me down a lot.
Then, it all started. The solo performances were mesmerizing, and the winner of the category was Joaquín Barbosa, delivering an amazing rendition of "Feeling Good" by Nina Simone. Commanding an amazing stage presence, he not only swayed the crowd, but the judges as well. The group performances came soon thereafter, where many bands tried their hardest to make an impression on the judges. In the end, Briana Cusumano and I ended up winning the group music category by singing Arabella, a song I have proudly composed. I was ecstatic after our performance, since it seems that people really liked it. The final of the three categories, Dance, began after a little break.
The amount of energy, passion and emotion conveyed through the dancers movements was fascinating. The winner of the event was Oriana Barreda, whose choreography told a story of growth and self-betterment, and she even made this excellent choreography herself! Finally, there was a "danza de tijeras," before announcing the winners, which was awesome to watch. The creative and somewhat crazy stunts the dancers did made the wait VERY worthwhile. After the dance, the winners were announced. I was in shock. I could not believe what had just happened. Therefore, next year, you should definitely go to Markham's Got Talent.
Additional Info
Autor del artículo:

Mateo de la Piedra